CELEBRATING over 40 YEARS OF HOCKEY EXCELLENCE
CAHA is the premier Central Ohio Youth Hockey Organization and has been active since 1967. The central theme of CAHA is to provide the proper instruction of ice hockey fundamentals for boys and girls who range in age from 5-15 years old, as well as to provide an environment for the young athletes to continue developing athletic skills. A non-profit organization governed by the rules and regulations of USA Hockey, CAHA offers three levels of hockey instruction--the Initiation League, the House League, and the Travel League.
Looking for information on your favorite travel or house team? Go to the Travel and House Teams page at the top.
Looking for information on CAHA? Look at the pages on the left.
And all the latest news is just below.
HEADLINES
New CAHA Logo


10/21/2015




Capital Amateur Hockey Association New Logo with a Similar...
U.S.A. Hockey
Central Ohio
Level 4 Coaching Clinic
Friday & Saturday,
June 24 – 25, 2016
For All Level 3 Hockey Coaches:
USA Hockey is now offering a Level 4 Coaching Clinic in Central Ohio
Friday, June 24 – 6:00 PM – 11:00 PM at Columbus Marriott NW, 5605 Blazer Parkway, Dublin, OH, and

Saturday, June 25 – 8:30 AM – 4:00 PM at Hyatt Place, 6161 Parkcenter Circle, Dublin, OH (across from Columbus Marriott NW).

Included in the cost of the two-day clinic is a social reception on Friday night, breakfast and lunch on Saturday as well as all clinic materials.
Register on-line at www.usahockey.com
Click "Coaches" tab for USA Hockey coaching clinic information, requirements and registration
CHILLER SPONSORED House Hockey Skills
OhioHealth Chiller Dublin
April 19 - May 24, 2016

Cost: $150/player; $75/goalie

MINI-MITE/MITE
Tuesdays 6:30-7:20PM
Player - Register online >
Goalie - Register online >

SQUIRT/PEEWEE
Tuesdays 7:30-8:20PM
Player - Register online >
Goalie - Register online >
---
Lead Instructor: James Nash - Chiller Specialized Hockey Skills Director and former OHA League player
Camp Itinerary:
WEEK 1-2: Inside/outside edges, tight turns, crossovers, stops and starts
WEEK 3: Backward skating/crossovers, transitions forward to backward
WEEK 4: Accuracy in passing, stick-handling during high speed skating
WEEK 5: Shooting - accuracy of wrist shot, backhand, snapshot
WEEK 6: Cross-ice game

WITHOUT EXCEPTION, ALL PLAYERS MUST SIGN UP AT THE LEVEL PLAYED DURING THE 2015-2016 HOCKEY SEASON.

MINI-MITE/MITE
Tuesdays 6:30-7:20PM
Player - Register online >
Goalie - Register online >

SQUIRT/PEEWEE
Tuesdays 7:30-8:20PM
Player - Register online >
Goalie - Register online >

For more information, please contact Hockey Director Rob Schriner - or 614-791-9999 x125.

Jeff Salajko Goalie Camp 2016
TUNE-UP FOR TRYOUTS AND PLAY LIKE A PRO!
Join NHL goalie coach Jeff Salajko and his experienced staff for this fun and challenging 9 session goalie camp.
March 20 - May 8 all sessions at Chiller Dublin
Group 1 Beginner/House/Select (01-07) Full Gear Required
Sundays 10-11am*
*Except 3/20 - 11am-12pm - $245
Group 2 Travel/AAA/AA/A (01-06) Full Gear Required
Sundays 11:10am-12:30pm**
**Except 3/20 - 12-1:20pm - $280

Camp will focus on:
GOALIE SPECIFIC SKATING AND FOOTWORK DRILLS (lateral movement shuffles and t-pushes, transitions, quickness, agility, and explosiveness)
SAVE SELECTIONS (Butterfly, glove/blocker, blocking/reacting situations, post-load, body saves, disciplined stick, rebound control)
SLIDING TECHNIQUES (Butterfly slides, lateral adjusts, knee shuffles, post "sealing" and leans)
PUCKHANDLING (Stopping and setting dump-ins, stickhandling, and passing)
MENTAL SKILLS (Positioning, angles, depth management, reading plays)
GAME SITUATIONS (Wraparounds, pass-outs, jam plays, screen/traffic situations, breakaways, backdoor plays, deflections and walk outs)
Each session to consist of a mix of goalie power skating, game situation goalie drills, and battle drills and competitions.

About Coach Jeff:
Detroit Red Wings NHL Assistant Goalie Coach and Development Coach (2013-present)
Ohio State University Varsity Goalie Coach (2008-10 & 2012-13)
Ohio AAA Bluejackets Goalie Coach (2005-present)
NHL Draft Pick - San Jose Sharks (1993)
8 Year Professional Playing Career (1995-2003)
4 Year Junior A Career - Ontario Hockey League (1992-1995)
Register online >

Download a printable informational flier >

For more information contact Rob Schriner - or 614-791-9999 x125.
RECOMMENDED CARE FOR YOUR HOCKEY JERSEYS!!!
Wash the hockey jersey inside-out. Turn the jersey inside-out, then place it into the washer. Doing so will help to preserve the jersey's fabric and make it less faded.
Use color-safe detergent. Washing your hockey jersey is safe detergent negates the fading effects of regular detergent. Purchase color-safe detergent at your local department store.
Wash the jersey in a gentle washing cycle and in COLD water. Unlike hot water, the cold water will not shrink the jersey. The gentle cycle of the washer allows your jersey to stay intact. In addition, the gentle cycle will keep your jersey looking soft and feeling comfortable.
LET IT AIR DRY DO NOT PUT IN DRYER. Just like the hot water, the hot air of a dryer will shrink your hockey jersey and loosen the adhesion of the silkscreen LOGOS, numbers and names. To properly dry your hockey jersey, put it on a hanger and hang it up in a dry place. If you have a clothes line, you can hang your jersey up outside. It should take at least 45 minutes to air dry. If you have to use the dryer, use only the AIR SETTING and NO FABRIC SOFTENER SHEETS!!
Hang up your jersey in a dry place. Once it's done drying, place it in a closet or somewhere that is not filled with moisture. Moisture will make the jersey uncomfortable when you decide to wear it again.
Have a great Hockey Season!!
2016 Hockey School Dates, Times, and Locations
July 18-22 at OhioHealth Chiller North
Squirt Camp
Ages: 9-10 years old
Time: 8:00am-12:15pm
Cost: $395
Register online >
Peewee Camp
Ages: 11-12 years old
Time: 8:00am-12:15pm
Cost: $395
Register online >
Mite/Squirt Goalie Camp
Ages: 10 years old and under
Time: 1:00-2:30pm
Cost: $195
Register online >
Peewee/Bantam/Midget Goalie Camp
Ages: 11-16 years old
Time: 3:00-5:00pm
Cost: $245
Register online >
July 25-29 at OhioHealth Chiller North
Mini-Mite Camp
Ages: 5-6 years old
Time: 8:30am - 12:15pm
Cost: $345
Register online >
Mite Camp
Ages: 7-8 years old
Time: 12:30-5:15pm
Cost: $395
Register online >
August 1-5 at OhioHealth Chiller North
Bantam/Midget Camp
Ages: 13-16 years old
Time: 8:00am-12:15pm
Cost: $395
Register online >
Girls Camp
Ages: 8 years old and over
Time: 4:30-6:00pm
Cost: $195
Register online >
Contact Hockey Director Rob Schriner for more information - or 614-791-9999 x125
Chiller-Caruso SaveMaker Fundamentals Goalie Camp
Lead Instructors: Dave Caruso and Allen Schneider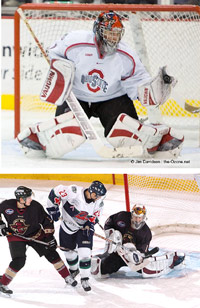 Location: OhioHealth Chiller North - Lewis Center, OH
Dates: June 13-17, 2016 (Monday-Friday)
Time: 8:15am-12:45pm
Ages: 6-16 years old
Level: Beginner to Intermediate FULL GEAR REQUIRED
Chiller-Caruso SaveMaker Fundamentals Camp is perfect for beginner to intermediate players who want to focus more on the fundamentals of playing goaltender position. This camp is designed to give goalies the opportunity to enhance their technical save techniques, save selections and goalie specific movements through simpler drills. We will break down the goaltender position and the specialized skills needed to help goaltenders improve and feel confident in their game.

We will have a mix of current college, junior and varsity high school level goaltenders to help give insight to the campers about what it takes to succeed and push their game to the next level. Due to NCAA restrictions, we cannot use their names or likenesses.
Camp includes:
7.5 hrs on-ice goalie specific development - goalie power skating, technical and game situational drills
7+ hrs off-ice conditioning to be lead by top trainers in Columbus. Training will include yoga, hand-eye coordination, flexibility, balance and quick/active hands
3.75 hrs of video and goalie seminars on topics such as goal setting, motivation, emotional regulation, self-control, positive attitude, coping with pressure, team work, managing energy levels, preparedness, perseverance, situational awareness and choosing the right equipment
Video review (NHL clips and current camp's goalie work)
Varsity, AAA, Junior, Collegiate, or Professional level shooters
Max of 3:1 camper to instructor ratio
Certified athletic trainer present all day
Optional Lunch - Noodles and Company, Moe's, Papa John's and Jimmy John's catered last year
Cost: $450 with daily lunch or $375 with no lunch (save $20 on either option if paid in full by April 18, 2016)
To include lunch option, select "Chiller-Caruso SaveMaker Fundamentals Goalie Camp" and then select "Chiller-Caruso SaveMaker Fundamentals Goalie Camp - Lunch Add-On."

Lunch is offered to give campers the opportunity to eat with Chiller-Caruso SaveMaker Elite camp instructors and attendees. We want our goalies to all feel that they are part of the "Goalie Nation." Goalies and coaches are able to talk about goalie topics informally during lunch.

Chiller-Caruso SaveMaker Fundamentals typical camp schedule:
8:15-8:40am: Warm up
9:00-10:30am: On-Ice - Fundamental and Save Techniques
10:45-11:45am: Off-Ice Conditioning - Yoga/Athletic Development
12:00-12:45pm: Classroom Development - Video and Goalie Seminars
12:45pm: Non-lunch group check out
1:15pm: Lunch group check out
Each camper will receive a jersey, water bottle, digital camp photographs posted online, written evaluation and "swag bag."

Raffles and prizes from the following sponsors: OhioHealth Chiller Ice Rinks, Vaughn Hockey, Total Hockey, Vice Designs, Caruso Hockey, Harbor Yoga and more.
For more information, please contact Coach Dave Caruso -
Chiller Developmental Series
Coached by Darcy Cahill and other high level professional coaches.
Group 1/2/3: March 22 - May 27, 2016
Group 4/5/6: March 24 - May 27, 2016

10 on-ice practices @ Easton*
10 inter-squad games @ Dublin
For upper level players looking to improve skills in the off-season
All times/locations subject to change
Must have dark and white jersey
Cost: $480 per player
Group 1: 2008-10 Birth Year
Practice Tues 6:00-6:50pm @ Easton
Game fri 5:30-6:20pm @ Dublin
18 players max
Register online >

Group 2: 2005-07 Birth Year
Practice Tues 7:00-7:50pm @ Easton
Game Fri 6:30-7:20pm @ Dublin
18 players max
Register online >

Group 3: 2002-04 Birth Year**
Practice Tues 8:00-8:50pm @ Easton**
Game Fri 7:30-8:20pm @ Dublin
18 players max
Register online >

Group 4: 2008-10 Birth Year*
Practice Thur 5:00-5:50pm @ Easton*
Game Fri 5:30-6:20pm @ Dublin
18 players max
Register online >

Group 5: 2005-07 Birth Year*
Practice Thur 6:00-6:50pm @ Easton*
Game Fri 6:30-7:20pm @ Dublin
18 players max
Register online >

Group 6: 2002-04 Birth Year*
Practice Thur 7:00-7:50pm @ Easton*
Game Fri 7:30-8:20pm @ Dublin
18 players max
Register online >

*Groups 4, 5 & 6 Thursday, April 14th practices are at the OhioHealth Ice Haus
**Group 3 practice on Tuesday, March 29 is at OhioHealth Chiller Easton at 5:00pm
Download printable flier (PDF) >

For more information contact Rob Schriner (614) 791-9999 x125 or
Capital Amateur Hockey Association's (CAHA) Locker Room Policy
In addition to the development of our hockey players and enjoyment of the sport of hockey, the safety and protection of our participants is central to CAHA's goals. CAHA adheres to USA Hockey's SafeSport Program as a means to help protect its participants from physical abuse, sexual abuse and other types of misconduct, including emotional abuse, bullying, threats, harassment and hazing. To help prevent abuse or misconduct from occurring in our locker rooms, CAHA has adopted the following locker room policy. This policy is designed to maintain personal privacy as well as to reduce the risk of misconduct in locker rooms.
At Ohio Health Chiller Ice Rinks there are between 4 and 8 locker rooms available for our program's use. Each of the locker room shares a restroom and shower area with one or more locker rooms. Some teams in our program may also occasionally or regularly travel to play games at other arenas, and those locker rooms, rest rooms and shower facilities will vary from location to location. CAHA team organizers will attempt to provide information on the locker room facilities in advance of games away from our home arena. At arenas for which you are unfamiliar, parents should plan to have extra time and some flexibility in making arrangements for their child to dress, undress and shower if desired.
Locker Room Monitoring
CAHA has predictable and limited use of locker rooms and changing areas (e.g., generally 15-30 minutes before and following practices and games). This allows for direct and regular monitoring of locker room areas. While constant monitoring inside of locker rooms and changing areas might be the most effective way to prevent problems, we understand that this would likely make some players uncomfortable and may even place our staff at risk for unwarranted suspicion.
We conduct a sweep of the locker rooms and changing areas before players arrive, and if the coaches are not inside the locker rooms, either a coach or voluntary locker room monitors (each of which has been screened) will be posted directly outside of the locker rooms and changing areas during periods of use, and leave the doors open only when adequate privacy is still possible, so that only participants (coaches and players), approved team personnel and family members are permitted in the locker room. Team personnel will also secure the locker room appropriately during times when the team is on the ice.
Parents in Locker Rooms
Except for players at the younger age groups we discourage parents from entering locker rooms unless it is truly necessary. If a player needs assistance with his or her uniform or gear, if the player is or may be injured, or a player's disability warrants assistance, then we ask that parents let the coach know beforehand that he or she will be helping the player.
Naturally, with our youngest age groups it is necessary for parents to assist the players getting dressed. We encourage parents to teach their players as young as possible how to get dressed so that players will learn as early as possible how to get dressed independently. In circumstances where parents are permitted in the locker room, coaches are permitted to ask that the parents leave for a short time before the game and for a short time after the game so that the coaches may address the players. As players get older, the coach may in his or her discretion prohibit parents from a locker room.
Mixed Gender Teams
Some of our teams consist of both male and female players. It is important that the privacy rights of all of our players are given consideration and appropriate arrangements made. Where possible, CAHA will have the male and female players dress/undress in separate locker rooms. If separate locker rooms are not available, then the players will take turns using the locker room to change. We understand that these arrangements may require that players arrive earlier or leave later to dress, but believe that this is the most reasonable way to accommodate and respect all of our players.
Cell Phones and Other Mobile Recording Devices
Cell phones and other mobile devices with recording capabilities, including voice recording, still cameras and video cameras, are not permitted to be used in the locker rooms. If phones or other mobile devices must be used, they should be taken outside of the locker room. It may be permissible to have team manager collect phones.
Prohibited Conduct and Reporting
CAHA prohibits all types of physical abuse, sexual abuse, emotional abuse, bullying, threats, harassment and hazing, all as described in the USA Hockey SafeSport Handbook. Participants, employees or volunteers in CAHA may be subject to disciplinary action for violation of these locker room policies or for engaging in any misconduct or abuse or that violates the USA Hockey SafeSport Policies. Reports of any actual or suspected violations, you may email USA Hockey at or may call 1-800-888-4656.
Capital Amateur Hockey Association
New Logo with a Similar Great Look
Columbus, OH (October 15, 2015) - Capital Amateur Hockey Association is proud and excited to unveil a new logo with a similar look. This new logo was designed to provide synergy across all programs, House and Travel, to develop a consistent look and recognition. The Capitals logo has always been received well and provided an excellent starting point for the new logo for the association.
Although the official name is Capital Amateur Hockey Association, the association is known regionally as CAHA. With this in mind, it was decided to use the four letters across the top section of the state of Ohio flag and state Capitol rotunda, similar to the word Capitals used for the Capitals Travel Hockey program. Ten stars replace the word Columbus. Under the letters CAHA, a quiet space was created for other variations of the logo to be used. The Capitals Travel Hockey logo will remain in place for those teams.
For marketing and apparel, the word Hockey will be displayed under CAHA to assist with sport association. Other variations will be adopted for special events, celebrations and programs. The House program teams will have this new logo on the front of their jerseys in a single color print of either white, black or blue. The Columbus Northstars, our House Select program will continue with the "C with a star", and will add the new CAHA logo to the shoulders. Later in 2015, spirit wear and decals will be available for order on the CAHA website (www.cahahockey.com).
The association would like to thank Chad Headlee and Alpha Graphics for their efforts in creating this new look. The team provided a number of renditions and made the process easy and exciting.
The Capital Amateur Hockey Association was founded in 1967, and will be celebrating 50 years of providing hockey to the Central Ohio area in 2017. The association is a member of USA Hockey – Mid Am District, and is a USA American Development Model (ADM) program.
If you are not receiving emails from your Coach or from the website, please use the following directions to update your member record(s):
We Also now have a GREAT new feature to introduce to you. You can now sign up to receive game and practice email reminders for times assigned to your skater's team. By default, this feature is OFF. To turn it on, please follow the instructions below:
Step 1: From the home page, click on the "Edit My Account" button in the lower left hand corner
Step 2: Enter in your email address and password (you created this when you registered online). If you don't remember your password, enter your email address and click the submit button (with the password line left blank). Your password will be emailed to you.
Step 3: Click on your skaters record
Step 4: Check the email reminders box for Games, Practices or Both.
Step 5: Confirm, change or add an email address in the "Email Address" box (use a comma to separate multiple email address'
Step 6: Click on the "Submit" button at the bottom of the page to submit your changes.